RAJAN adheres to high standards of quality to ensure that all of its clients receive best in services.
To that end, the company maintains an ISO-9001:2008 compliant quality system that is periodically audited in-house and externally. RAJAN company has been accredited with the ISO-9001:2008 certification for Design, Engineering and Procurement in the field of Oil, Gas, Petrochemical, Mine & Metal, Power, Water Industries and Chemical Plants.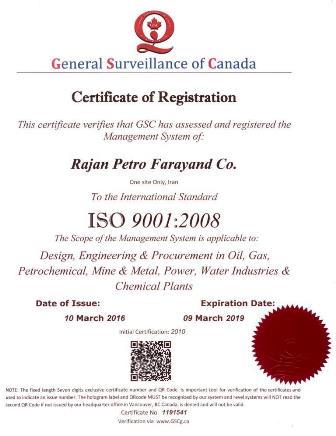 RAJAN Health, Safety and Environment (HSE) philosophy is to manage all work activities using a strategic Health, Safety and Environmental process founded on management commitment, personnel accountability, internationally recognized standards, appropriate level of training, fairness, and a system of HSE performance measurement.